WEARING EMMYDEVEAUX DURING PREGNANCY
---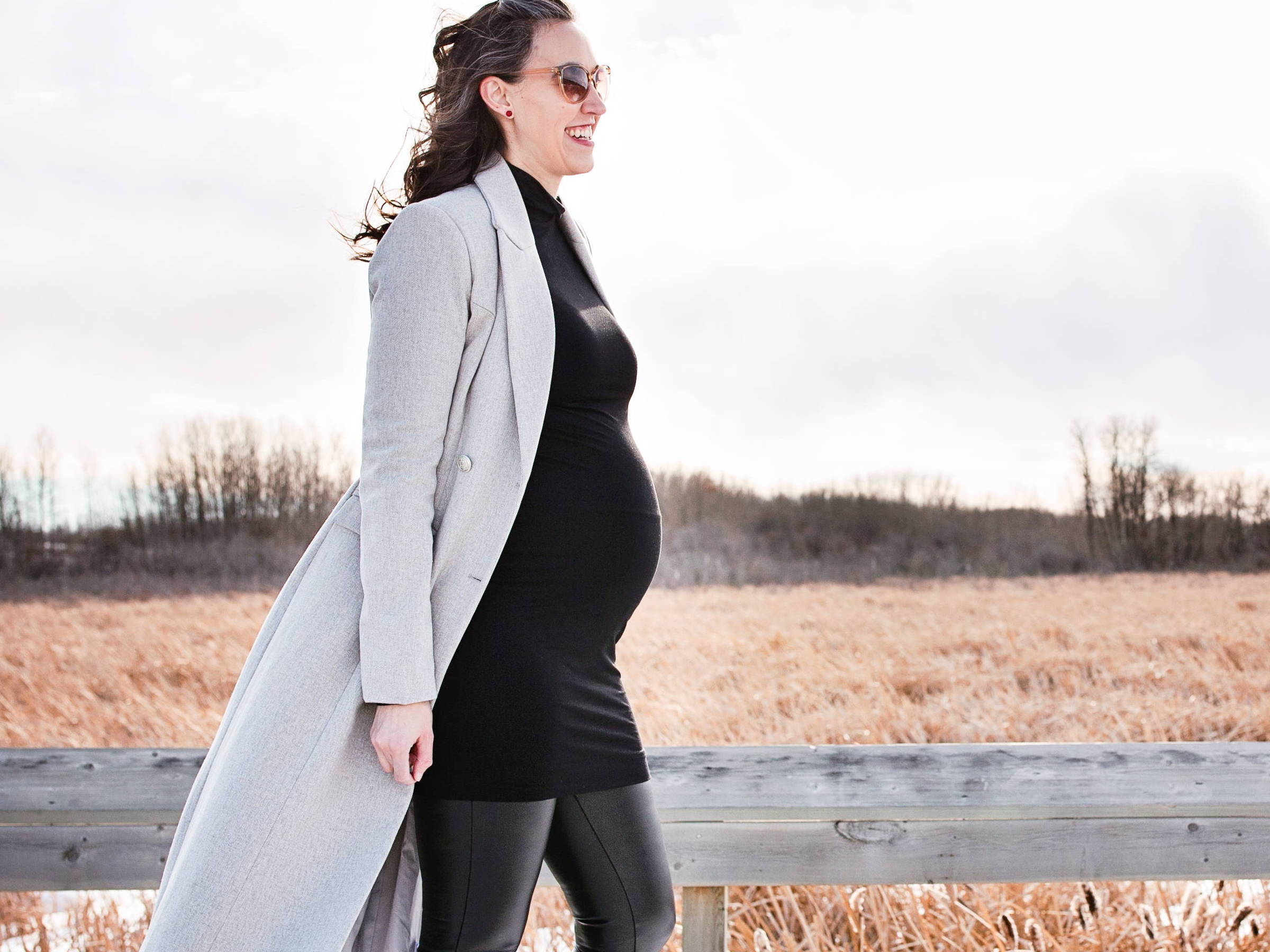 ---
It all started with a dress. The Double Layered Tank Maxi Bodycon With Zipper dress, to be precise. At the time of writing this, I am 35 weeks pregnant. And since it all started with an EMMYDEVEAUX dress, it's not shocking that for the bulk of my pregnancy I have continued to wear my EMMYDEVEAUX items. Aside from needing some maternity underwear (if you know, you know) and some cheap, super stretchy leggings, I have needed to buy no new clothes for this pregnancy.
---
What have I been wearing? Well all of the Boyfriend items of course: the t-shirt, tank tops, and long sleeved shirt. They got me through the early days of keeping my pregnancy on the down-low and remain a staple in my wardrobe even now. When I'm wanting to show off the bump in a more casual setting, the Slit T-shirt or the Double Layered Crop Top have been a dream.
---
Both the Pocket Dresses, long and short sleeved, have been in heavy rotation, as well. And the Harem dress was a dream come true! It's incredibly comfortable for working from home and housing a belly. Since it is winter and I have many Zoom meetings, the Double Layered Crop Top or the Double Layered Cropped Hoodies generally go over top.
For days at the office or more important Zoom meetings, The Chloe jackets and now The Jordan have been comfortable and stylish, and The Chloe jackets were also key to hiding my pregnancy in the early days. Their shape ensured that no one noticed there was a tiny human underneath my Boyfriend T-shirt and The Chloe.
---
---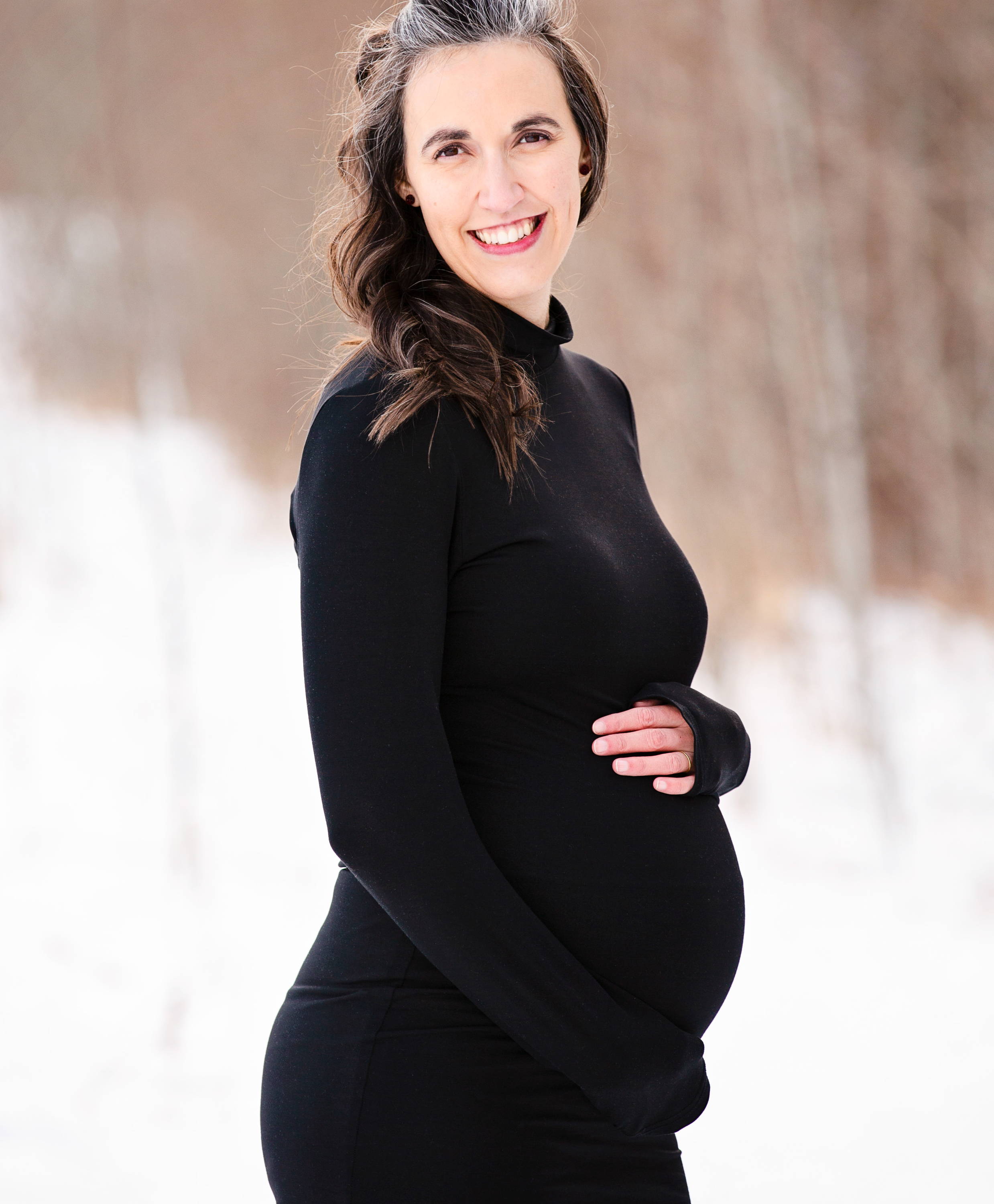 ---
Finally, the Double Layered Turtleneck Mini Dress is something I throw on when I really want to show off my belly (maternity photos, dinners out, etc.). And if it were warmer out, I would likely be wearing my other bodycon pieces with more regularity, although probably not The Ruched Zipper Bodycon, but only because I have a fear the zipper would go!
There are two items I miss wearing - my Double Layered Long Hoodie and the Double Layered Onesie. These both got me through to about 20+ weeks, and then I started to feel badly for their zippers so I set them aside. I'm looking forward to wearing them, and the new Lounge Set (!!!), postpartum.
---
I'm excited for what lies ahead (a tiny human, sleepless nights, fitting into some of my other EMMYDEVEAUX pieces again), and a little sad that The Chloe and other similar items are impractical with a newborn around. However, every time I open my closet and see those temporarily impractical pieces, I know that I'll be infused with joy at the prospect of wearing them again soon. And let's be honest, wearing them again will probably be the best part of returning to work following my maternity leave.
---
---
---
Check out the photographer Natane used!
Leave a comment